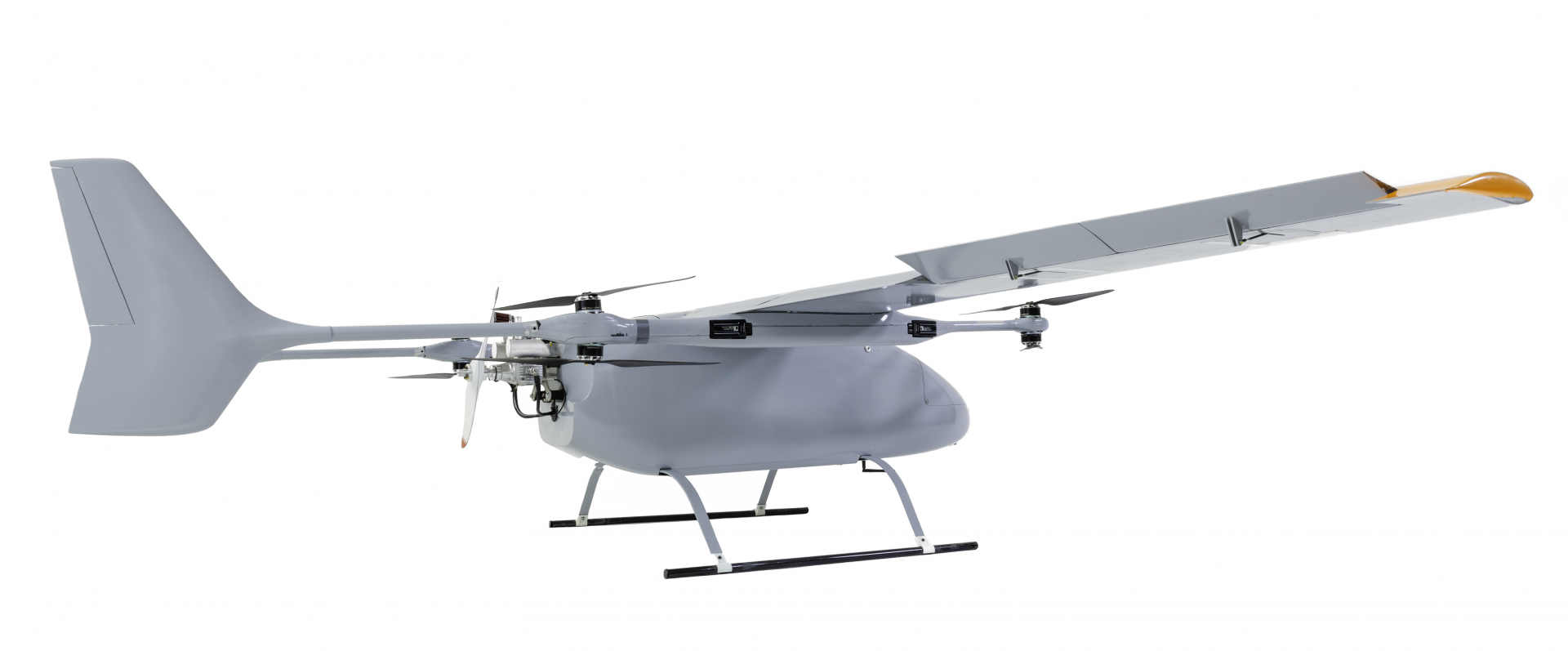 Growth story
The company was established in 2015. Initially, the founders wanted to solve the local healthcare problem in Poland. The first UAV designed in Spectre Solutions was fixed-wing construction with VTOL capabilities. It was designed to bring defibrillators to potential crash sites in lodzkie voivodeship in central Poland. During this time highway infrastructure in Poland was still under construction and ambulances had a problem with quick on crash site arrival. The idea founders had was to send defibrillator-equipped UAV to potential crash sites as quickly as possible (before medical services arrival) so car accident victims can be kept alive. The first model was finished and shown in 2016 during Dron Show in Rzeszow (Poland) and the Warsaw Industry Week show. It was recognized during Kogres 590 show and was shown on the President of Poland's official website after the expo.
After tests company revised the model, acquired EU funding, and started working together with Warsaw University of Technology. The project started in 2018 and allowed the company to fundamentally revise its business strategy for the UAV industry. In 2019 company entered a partnership with UAvionics – a leading polish company that produced UAVs for a variety of missions. Initial tests of the revised model were conducted in early 2020. The finished revised model called Spectre-1 was finished in August 2021. A new revised model was shown during the MSPO fair (Military exhibition in Kielce, Poland), Defence Conference in Poland. In late autumn of 2021 Spectre-1 was also presented on the Gitex show where he received a good response. In 2021 Company received funding for a second R&D project called "Grim Reaper". This project involves Spectre-1 UAV for constant highway traffic patrolling (mobile speed camera). The project is being built in cooperation with Cezamat Institute, Warsaw University of Technology, and the National Institute of Telecommunications.
Contact
Szymon Radtke (CEO)
Twenty years of professional experience. Professionally associated with IT, automation, and robotics as well as consulting industries. Domestic and foreign experience and skills in designing business processes and IT solutions supporting processes, mainly in sales areas, orders, customer service, and call/ contact center solutions. Worked for, among others: PROKOM Software, Telekomunikacja Polska, Orange Polska, GTS, Wana (Morocco), MTS (Russia), PIKA, T-Mobile. The last project is the development of an innovative aircraft vertical take-off and landing (VTOL) intended for carrying measuring equipment, cargo transport, or patrol missions (SPECTRE-1).
Marek Pleskot (CTO)
Over 15 years of experience in IT as a developer, system/business analyst, and IT architect. Solid knowledge of the telecommunication industry (mobile & fixed), BSS\CRM systems (e.g. PeopleSoft, Siebel). Knowledge of the following standards/frameworks/methodologies: TOGAF 9 (certified), ITIL (certified), ArchiMate, Zachman Framework, BPMN, UML, SOA, microservices, design patterns, PRINCE2® (certified), TM Forum Frameworx - SID, eTOM. Author of many solutions implemented by leading telecommunication operators. Worked for: Office des Postes et Télécommunications (French Polynesia), Telekomunikacja Polska, Orange, GTS, France Telecom (France), Wana (Morocco), PIKA, amdocs (France), T-Mobile. Excellent analytical and technical skills, sound educational background, and leadership abilities. Privately aviation enthusiast has a PPL (A) license.
Sebastian Konkol (CIO)
A former employee of Asseco. Successfully deployed bank systems for HP. Owner of multiple companies specializing in IT and technology (insure-tech, healthcare, sports, agriculture). Has a great background in solutions accommodating software and hardware (worked on the platform for volleyball challenges capturing high-speed images from multiple cameras in real-time). Mentor on accelerator programs in Warsaw. Helped multiple startups in the initial phase of growth by rationalizing MVP costs.
Head of International Business, CEE & UK
Business Development specialist with a strong focus on Eastern European markets. Co-founder of a tech startup. Previous employee of the Departament for International Trade in the British Embassy Warsaw and EAS Enterprise Estonia. Master's degree student of International Relations and certified expert in Diplomatic Protocol and European Politics. Responsible for building partnerships with public and private sector in Central Eastern Europe and in the UK.
Franciszek Milczarski (Head of International Business)
Certified Senior Consultant in giant American corporations like IBM and KPMG implementing IT projects, experienced in introducing RPA automation to Polish and foreign companies. Student of the Warsaw University of Technology at the Faculty of Electronics and Information Technology. Former CTO, CEO of ecoCoach Sp. z o.o.. Experienced, certified business coach and executive coach, keynote speaker, and soft skills trainer working with CEOs and managers. A trainer OKR who effectively implements the method of managing goals in organizations. Flying model aircraft enthusiast from an early age. Currently responsible for building and developing international partnerships in terms of production, sales, and promotion of drone solutions in Europe, Africa, and other regions of the world.